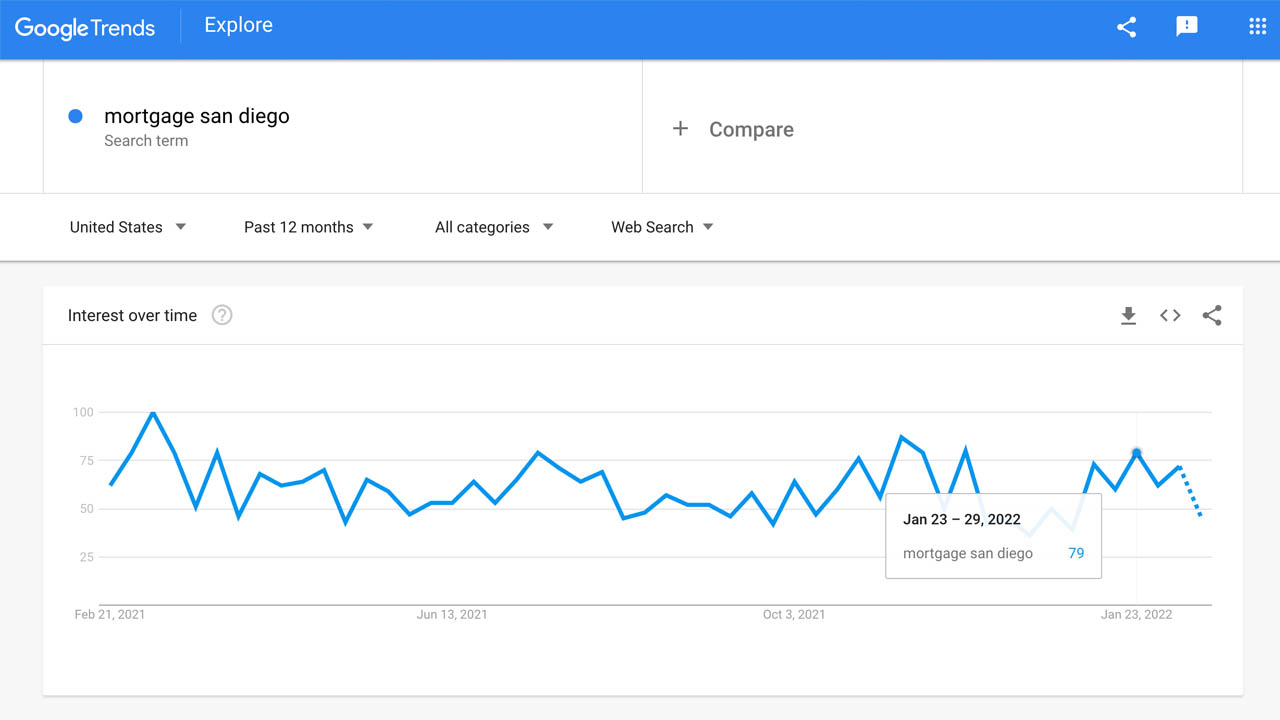 Do you know that harnessing the power of Google trends can help your mortgage business thrive? According to Google, they provide the most accurate data based on what people are looking for. If you are in the mortgage business, this tool is perfect for you. This is so because you can get real-time information about your target market's search behavior. But before we get into the nitty gritties, let us first understand what Google trends is.
What Is Google Trends?
Google Trends is a free SEO tool offered by Google which can show you how frequently people search for certain terms related to your business. Basically, it is a market research tool that allows you to know what kind of products and services are in demand and the geographical locations where they are most likely to be found. It also provides data about the change in consumers' preferences over time and so much more.
6 Ways You Can Use Google Trends For Your Mortgage Business?
The mortgage business is booming worldwide, especially in countries like the U.S, where housing credit is much more accessible. If you have a mortgage business or plan to start one, then Google trends can help you a lot. How so? Keep reading.
1. For Keyword Research
When a person runs a search on Google for something like, 'houses for sale", the results will show the most popular search terms related to 'houses for sale.' Google trends show you if people are looking for terms like "buy house" or "for sale by owner", etc. You can use this information to determine what keywords you should be using to drive more traffic to your mortgage website. Moreover, you can also use it to determine the most popular topics that people are interested in and then craft blog posts for your mortgage business. Remember, the goal is to have your site rank higher on Google, making it visible to more online users, especially those interested in mortgages.
2. For Backlink Analysis
Building quality backlinks is one of the best ways to increase your website's rankings in internet marketing. This strategy will help you boost your organic traffic and build a strong online presence for your mortgage business.
If you need high-quality links from authority websites, this tool is perfect for you because it shows you which websites have already indexed your page. You can then approach those sites and ask them to link to you. That is if they think that your business can be linked to their content or if they have a relevant article that you can cross-reference. Knowing which sites have already indexed you means you don't need to waste time on low-quality backlinks.
3. For Sentiment Analysis
Do you know there is a difference between high traffic and relevant traffic? If you want your business to thrive, you should focus on the latter. When looking at the Google trends on matters to do with real estate, you may find a spike in particular searches, but does that mean that it is positive? Well, not always.
Google trends show you the percentage of people who searched a particular topic on a weekly basis. And by doing more research, you will get to find out why. For instance, through Google trends, you can find out why the number of searches regarding 'hot house sales' was high on a given week. Thereafter, you can look at what exactly caused the spike. If they are positive sentiments, you can then determine what you can do to have a similar effect.
4. To Understand Customer Behavior
Understanding the behavior of your target audience or customers is vital because it helps you determine the best way to meet their needs. For instance, if you see that people are searching for a 'mortgage calculator' often, then this means that there's a need for it. You can come up with one and make it available on your mortgage website to attract more customers.
It is also important to note that customer behavior changes so often. It may be different in the morning than it is at night. Understanding what drives your customers will help you improve products and services that they need, thus increasing your conversion rate.
Additionally, it helps you know when to post content on your mortgage website. For instance, if many people search for mortgages only during the weekdays, you should focus on posting new content on Mondays to Fridays. Moreover, you can find out what time of day has the highest traffic so that you determine when to post new articles.
5. For Competitor Analysis
There's no business without competition, and your mortgage business is no exception. If you want to succeed, you must understand how your competitors perform better than you are. Google Trends for Websites can show you where your competitors are getting their traffic from. It also shows you the number of people who visit their website weekly, making it easy to compare with yours.
You can use this information to find new opportunities that will help improve your mortgage business ranking on Google.
6. For Future Predictions
Predicting future trends can help you have the edge over your competitors. And that's exactly what you will get by using Google trends. That is if you find out what people are interested in and when they will become interested in it. As a result, you can create content, products, or services relevant to what they need.
Remember that the more you understand about your customers, the better your chances of gaining their trust and building strong relationships with them. Also, it's important to note that most searches have a regional aspect, so don't forget to consider this when you're doing your research.