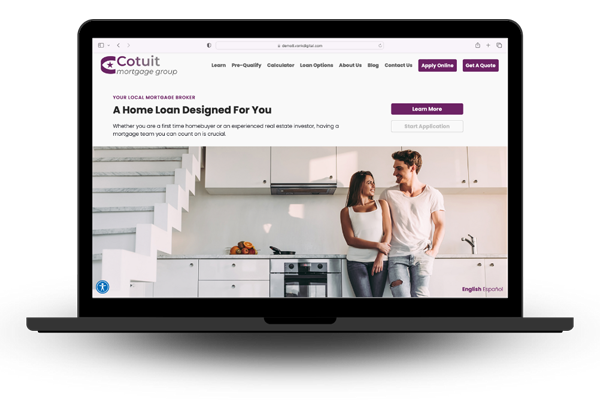 Click the images below to view the live demo sites
After you review the demo sites you can book a Zoom demo and we can show you some live sites and answer questions regarding customization, integrations, and what would be the best fit for you.
No other company provides the customization capability that we do.
It is not even close. As a result, you can change almost anything you want. We put all the design control in your hands.
Editing is easy.
We use a drag and drop content editing tool which allows for endless page layouts and customization. By no means is a technical understanding of websites needed in order to edit our websites.
We also offer a semi-custom mortgage website.
This solution gives the client the opportunity to create a website perfect for their company.  Our designs are not set in stone, its amazing what we can do with our mortgage websites on a semi-custom basis.  Get in touch with us to learn more!
We launch your new website in as little as 1 day.
We have convenient online setup form that allows users to quickly get started.
We listen to our clients when they ask for new features.
That is real, we actually consult with our clients to improve our product. Above all, we refuse to get stale. We are always working to stay ahead and bring our clients the very best.
Our mortgage website templates do not require any technical or content set up from you.
Therefore, when we launch your website you will be ready to go. In a quick as 1 day!