Automating the Use of Mortgage Testimonials to Close More Loans
Vonk Digital has a proprietary testimonial builder that comes included in our websites. Social media and client reviews have never been more important in the decision making process for people as they decide who to use as a lender.  Our sites come with a testimonial engine that allows your clients to submit a review of their experience with you and also a 5 star system. All submissions must be viewed by you in your admin area prior to being posted on your site so you have a chance to catch and false or slanderous reviews.
Here is where it gets interesting! The goal here is to build up a real and constantly growing basis of reviews on your website for prospective customers to read during their process of deciding if working with you is a good fit. In addition to just building up your website reviews you can improve your reach with this testimonial engine beyond your site by including the social sites you promote yourself on such as Yelp, Linked In, or Facebook. Anyone who submits a testimonial and rates you with a 4 or 5 star will automatically be prompted to also write a review on your page from the site you have selected!
For example; if you want to promote yourself on Linked In we would load in the Linked in logo and the link to your page within Linked In. As soon as the person submits the testimonial to your site they will be prompted with a thank you message inviting them to also review you on Linked In (or any services you prefer).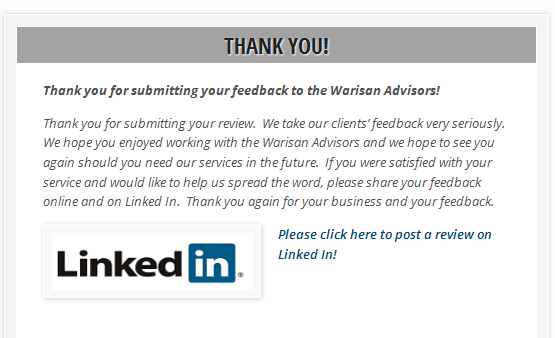 Now, if someone has a bad experience they may find you on the social media outlets to vent on their own but there is no reason to invite them to those pages. Anyone who rates you with 3 stars or lower will also get a thank you message (customizable by you) but it will not include an invitation to also post a review on your social pages. You can use this as a chance to invite them to contact you or to contact them and try and correct any errors or issues they may have had during their experience with you.
This is just one of the many intuitive features of why you should consider switching your mortgage website service to Vonk Digital. The sites are built specifically for the mortgage industry with many intelligent features that will help properly present you as the professional you are online and allow you to focus on closing more loans.
Inquire on our site to find out more about our offering which are all included at no additional charge and be sure to ask about our:
–          Fully integrated 1003
–          Short forms
–          Landing pages and when they are useful
–          Blog platform (Included)
–          Video sliders
–          Pop up bar at the bottom of the screen
–          Robust admin area that you can edit virtually everything on the site
–          And much much more!
See our mortgage website plans and pricing now.