Everything you want and need in a mortgage website.
You can blog, capture leads, integrate with social media, create web and landing pages, monitor site traffic, generate 1003 applications, manage SEO and much much more!
100% Mobile Friendly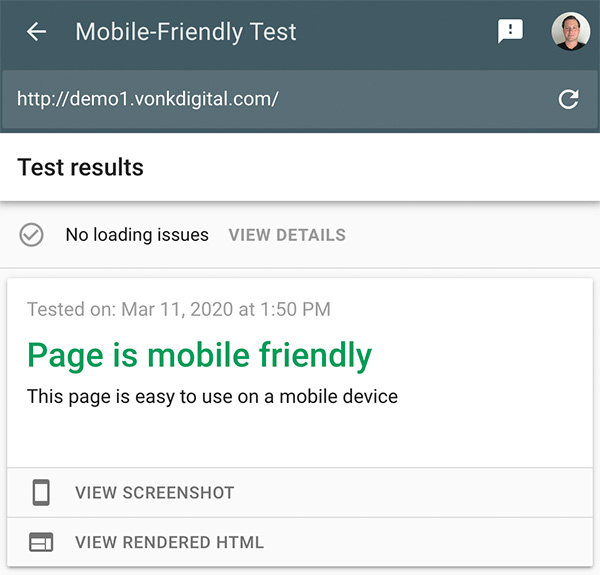 If you already have a website, go to Google's (Mobile-Friendly test) and test your website. If you get any warnings they need to be addressed.
This feature is an absolute no-brainer. A mortgage website must be 100% mobile-friendly. We were the first mortgage website company to have all of their clients on a fully mobile platform.
Here are some interesting statistics from www.hitwise.com
"15 year" and "30-year mortgage" was searched 73 percent of the time from a phone.
"Interest rate" was searched 65 percent of the time from a phone.
"mortgage calculator" was searched 55 percent of the time from a phone.
Built with Speed in mind.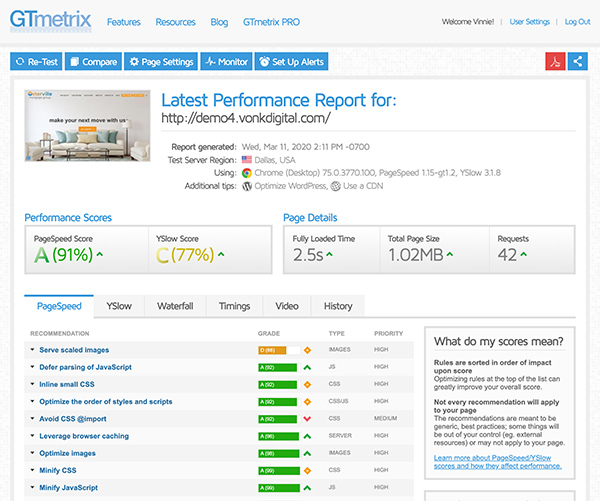 It is very important to have a fast website. If you already have a website you can run a free test on GTmetrix.
The main reason your website needs to be fast is to keep visitors from leaving. If your website does not load in 1-4 seconds, visitors will likely move on. There are many factors that can cause your website to be slow. A slow website will also not be recognized be google as mobile friendly. That can effect your mobile search page rank.
Vonk Digital builds mortgage websites with that in mind so you do not have to worry.
You can learn more about how to test for website speed in this article.
Hosting and Security.
Vonk Digital hosts your website on our secure dedicated private servers. We issue an SSL Certificate standard with every website.
We do not cut corners when it comes to security. Your mortgage website MUST have an SSL Cert. Otherwise, Google will flag your website "Not Secure".
A mortgage company that is collecting social security numbers, employment history, and bank account information through an online mortgage application needs to be secure in order to protect their clients information.
Built on the WordPress Platform.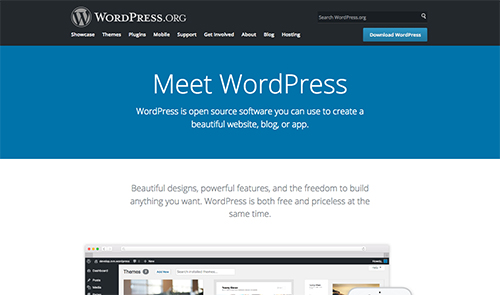 The Benefits of using WordPress.

The WordPress platform makes Vonk Digital's mortgage website template super easy to edit and customize.
We use WordPress for the versatility it gives us.
We did not want to have the best websites for a few years, and then get stale because our platform became out of date.  With WordPress we don't have to worry about that happening.  We can always have the latest looking websites.  Therefore we can give our clients visually stunning websites by today's standards, and be ready for what tomorrow brings.
Unlimited Forms Included
Create unlimited custom contact & quote forms with ease
Receive instant email and text message notifications!
Calls to action to capture information are strategically placed throughout the site prompting clients to enter their contact information.  Site traffic makes you feel good. Conversions make you money!
Our contact forms can be customized with tons of different options!  They are very easy to edit and create.
You can create unlimited forms.  Quickly build and design your contact forms using the drag and drop form editor. Select your fields, configure your options, and easily embed forms on your website using the built in tools.
Online reputation management software.
Customer reviews are the single most effective bit of marketing you can do for your company. With our reputation management software, users can easily display and request new client reviews. Our reputation management software helps mortgage companies ask for reviews on the sites that matter to them.
Use your blog to improve SEO and share information.
A website blog is an often underused tool in the mortgage space. Using a blog that is built into the website is a great tool for SEO, advertising, social media, and creating a newsletter.
Integrate your blog with Social Media
Built in Social Media sharing buttons
Easily write and post articles
Articles can display links, images and videos
Optimize your blog posts for search engines
Unlimited landing pages for advertising.
Mortgage Landing pages are often linked to from social media pages, email campaigns or search engine marketing campaigns in order to enhance the effectiveness of the advertisements. The general goal of a landing page is to convert site visitors into leads and sales. By analyzing activity generated by the linked URL, marketers can use click-through rates and conversion rates to determine the success of an advertisement.
Customers can have unlimited landing pages and can customize them in many ways.  You can literally customize the entire page.
Fully Customizable – Tons of options!
Display Your Services and Value Propositions
Use Different Phone Numbers for Tracking
Setup different versions for different Ad locations
Offer a Strong Call to Action
Include a testimonials, videos, or images
Build Unlimited Landing Pages
Use our clone feature to make multiple versions very quickly
Automate your email marketing to your blog.
SEO (search engine optimization) tool.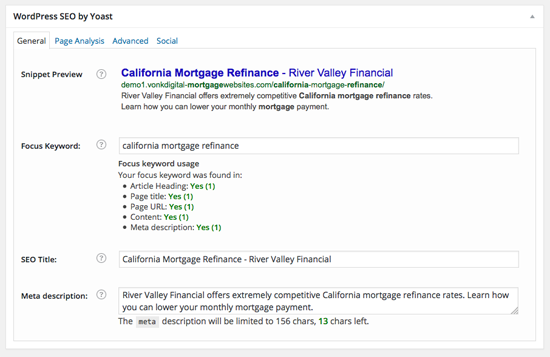 Easily optimize your website with SEO by Yoast.  This DIY program is completely free and we install it on all of our clients websites.
It has a content analysis function which helps you optimize your page correctly.
We offer free 30 minute training on how to setup your SEO correctly.
Does Vonk Digital offer an Local Mortgage SEO service?
Yes we do. We offer a full service local SEO program.
Drag and drop page builder for endless layout options.
Recently Envato, (the world's leading marketplace and community for digital creative assets) mentioned that one of the biggest technology trends in 2017 was using a page builder for a WordPress website. We have been using one since 2013.
This will allow the user to easily create custom layouts making their website layout options virtually endless.
Check out this video to see a quick "behind the scenes" look.
Secure online mortgage pre-qualification form.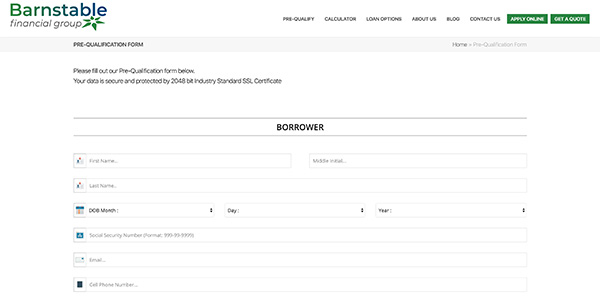 The application generates a fnm 3.2 file and also PDF. The fnm file can be uploaded into any LOS software.
Clients can fill out a mortgage application on their cell phones! Gone are the days of having to use your fingers to zoom in to see the different fields. Every aspect of Vonk Digital's mortgage websites are  fully responsive or mobile friendly.
Unlimited team bio pages.
Showcase your entire staff on your team page. Users can easily organize employees by department or branch, etc.
The bio pages can be simple or have a lot of customization. Videos, contact forms, images, sliders, etc can be added to any bio page. Endless design opportunities!